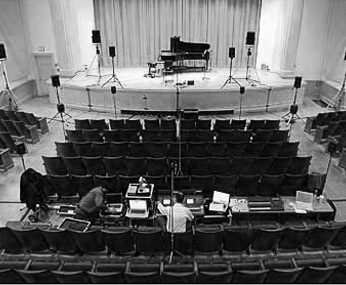 2014 Dates TBA
Chaya Czernowin
Composition Faculty
Hans Tutschku,
Composition Faculty
Dr. Steven Kazuo Takasugi,
Managing Director/
Composition Faculty
Beginning in the summer of 2012, the Harvard Summer Institute for Music Composition is proud to host its first International Summer Course for Composers of New Music. The gathering of twelve young composers will take place in two of England's best known sites: Concord's historic Colonial Inn and Harvard University in Cambridge, Massachesetts.
During the first week of two-week residency, composers will meet with the composition faculty for individual lessons and meet each other in organized one-on-one sessions to discuss their compositions. Furthermore, each composer will offer a presentation before the entire group, introducing his or her music for feedback and discussion.
During the second week of the course, these activities will continue supplemented by lectures on notation, instrumental techniques, and full practical application of compositional knowledge and realization through intense and focused rehearsals as the Talea Ensemble joins the course in Harvard's historic and newly renovated Paine Hall. Here Talea will prepare two full-evening concerts of twelve world premiere pieces that the composers have written commencing eight months prior to the public event. Works involving electronic setups will be welcome. Additionally, during the last days of the course, a symposium open to the public will take place focusing specifically on some of today's most pressing-aesthetic issues and the new technologies.
International lecturers and young composers from diverse music departments from across North America and overseas will be invited to participate in round-table discussions and attend the concerts and receptions. Admission to the concerts and symposium is free to the public.
The Harvard Summer Institute is made possible by the generous support of Harvard University, Art Mentor Foundation Lucerne, the Harry and Alice Eiler Foundation, and the administrative staff of Harvard Music Department.