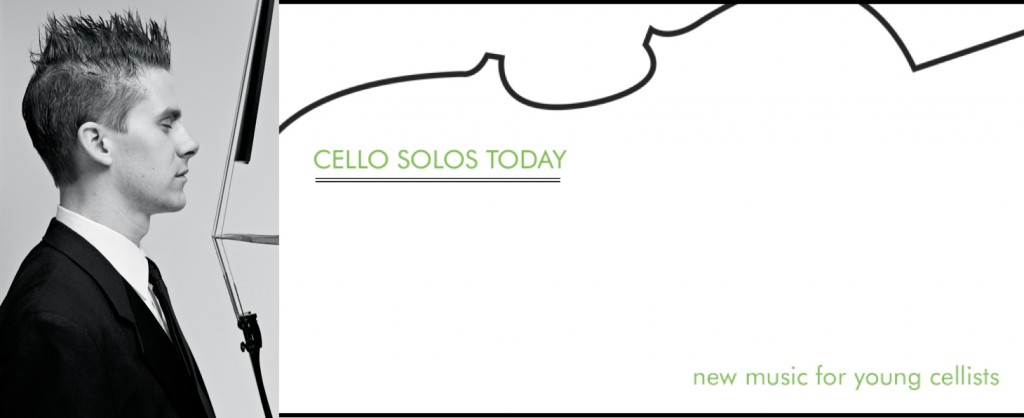 The idea behind Cello Solos Today is simple: to commission an anthology of 12 new short works (3-4 min. max) for solo cello, composed for intermediate cellists in a variety of contemporary styles by some of today's leading composers. By creating a repertoire of new works specifically designed for the non-professional cellist, Cello Solos Today seeks to actively engage young musicians with contemporary music through firsthand performance experience. A broader goal is to strengthen a tradition of living composers writing new music for young players of all instruments.

Cello Solos Today is committed to commissioning a range of composers representing different styles, backgrounds, and ages. The following composers have agreed to contribute new works to the collection:

Anthony Cheung
Mario Davidovsky
Jonathan Dawe
Mario Diaz de Leon
James Dillon
David Fulmer
Michael Gordon
Hannah Lash
Steve Lehman
Wei-Chieh Lin
Augusta Read Thomas
Charles Wuorinen

Goals: The first goal of Cello Solos Today is the commissioning, publishing, and distribution of new work for intermediate cellists. A second, and concurrent goal, is the creation of pedagogical materials to assist musicians who may be encountering contemporary music for the first time. These materials will include an accompanying recording of each work, as well as exercises designed to introduce unfamiliar techniques and musical syntax. An emphasis would be made on creating short exercises that are creatively-based rather than pedantic, and centered on experimentation and improvisation using the materials of the work being studied. These pedagogical materials would be made available online using audio and video, with the goal of creating an easy-to-use digital resource for both students and teachers.

Impact: The target audience for Cello Solos Today is a broad community of intermediate cellists, focused on young musicians and their teachers as well as adult amateurs and musicians in the early years of conservatory study. Further, the pieces in this collection will be performed nationally by students on a range of levels, and gain widespread exposure for these composers beyond the more serious audiences who are already familiar with them. Audiences for these works will range from devoted classical music-lovers, to families and peers of students. By creating works that are technically accessible yet aesthetically demanding, Cello Solos Today hopes to engage a wider audience with contemporary classical music through the joy of performing new works.

Funding and Timeline: Cello Solos Today seeks funding for commissioning fees to create new works for intermediate cellists. Funding is expected to be completed in 2015, with new works submitted at the end of 2016. Performance and recording, as well as publication and pedagogical materials will follow completion of the collection.

Cello Solos Today is a project of the Talea Ensemble, initiated and performed by founding cellist Chris Gross. Talea is committed to engaging students and audiences with contemporary music, through residencies, institutes, masterclasses, and concert talks and discussions.

To Donate, click the donate button below. After entering your payment information, please write "Cello Solos Today" in the Special Instructions box.
Make a PayPal donation:


Or send contributions directly to:

Talea Ensemble
37-18 Northern Blvd.
Suite 208
Long Island City, NY 11101