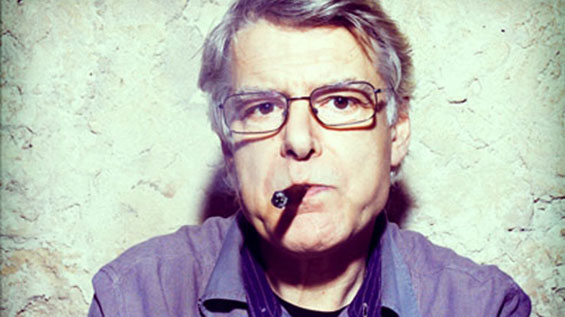 In anticipation of the US premiere of Georges Aperghis' multimedia extravaganza Happy End on April 23, 2014, the Talea Ensemble offers a portrait concert of solo and chamber works by the Paris-based Greek composer, whose lifelong engagement with experimental musical theatre has influenced every aspect of his work, including the purely instrumental.
Aperghis (b. 1945 in Athens, and based in Paris since 1963) has long been engaged in experimental musical theatre. It was his involvement as founder and musical director of the ATEM (Atelier Théâtre et Musique) beginning in the mid-1970s that changed his own approach to music-making. Involving musicians not just in the sound-based realization of scores but extending and integrating aspects of speech and bodily movement, Aperghis questions and plays with the production and perception of sound, as well as the multi-layered interactions between sight and sound.
The theatrical elements often mix the absurd with the poignant; sentimentality is conspicuously absent, but even satirical moments are driven by an intensely human and emotional impulse. The dramatic action is never cold or abstruse and is wholly integrated into the musical action; through virtuosic and kinetic feats, the performer humanizes what are often calculated and even mechanical processes.
When Talea performs Happy End in April, all the elements you will encounter on this program will be present and amplified. In working with an ensemble of sixteen, the video-artist Hans Op de Beeck, pre-recorded and processed voices, live electronics, and a familiar children's tale (a retelling of Perrault's Le Petit Poucet, or Tom Thumb), Aperghis engages with all the senses in larger and grander proportions. We hope that our December 18 concert will spark your new or continued interest in the unique oeuvre of Georges Aperghis.
— Anthony Cheung
Artistic Director, Talea Ensemble
December 18, 8 PM
University Settlement, Speyer Hall
184 Eldridge St.
New York, NY
Free Admission
Georges Aperghis: Dans le mur (2007)
Georges Aperghis: Rasch (2001)
Georges Aperghis: Fuzzy Trio (2006) *US Premiere
Georges Aperghis: Les Guetteurs de sons (1981)
Learn more about Happy End