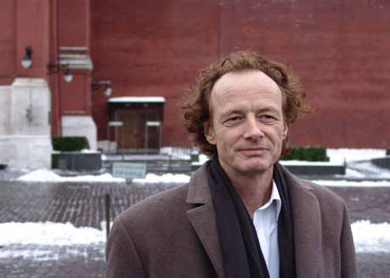 In May of 2013, Swiss/Austrian composer Beat Furrer will be in residence with the Talea Ensemble in NYC. This intensive week of immersion will include many layers of engagement with the composer: open rehearsals, lectures, in-concert discussions, performances of his chamber works, all culminating in the American premiere of Furrer's masterpiece evening length FAMA, "an aural theatre in eight scenes."
In 2001, Furrer wrote in the notes to his first opera, Orpheus's Books, "The narrative, compressed into a single instant and captured in endless repetition, is projected into changing spaces. Filtering processes cause individual layers to recede into the background or come to the fore, thereby generating contrasting perspectives. Linear time gives way to spatial depth: processes are »verticalized«, and momentary snapshots are probed by movable filters in ever-new perspectives." These ideas have already been at work in his earlier pieces, Nuun and still, and have proven to remain at the center of his thought, providing further impulse to create FAMA.
FAMA is scored for 22 instrumentalists, 8 singers, and one actress. The concept of the work borrows from a description of Roman poet Ovid's "Metamorphoses," of the home of the goddess Fama (the Goddess of Rumor), "a place to which all the events and sounds of the world come and find resonance." This space has an "overwhelming sensuality" where, "There is no shouting, but a murmur, like the sea, that sounds from a distance, or the last echoing rumble of thunder." With this metaphor, Furrer adds another layer of narrative taken from Arthur Schnitzler's short novel, "Fraulein Else," about a young girl forced into prostitution in order to support her debt-ridden father.
Furrer conceived of a "space within a space," a box designed as an instrument of and in itself, where the audience lies inside and the musicians and singers outside. The walls are moveable and are made of an acoustically reflective material on one side, and an absorbent material on the other, harnessing and transforming the perceptual space and in effect, the soul of Schnitzler's character as she descends into madness. FAMA is intensely personal, evocative of existential drama, pain and heartache found in the sonic tapestry of the work. Furrer believes that every note's decay is rich with drama and that every musical gesture has the power to tell a story. The musical materials that Furrer constructs can be heard as projections of Else's thoughts, turning into shards as the piece progresses, changing context and meaning as her identity is lost. FAMA consists of scattered muttering and whispering of voices and instruments, a solo violin, a dialogue between bass clarinets and an unsettling scene featuring Else's hysterical speech accompanied by contrabass flute.
FAMA (2004-2005)
Aural theater in eight scenes for large ensemble, eight-part (SSAATTBB) and actress
Texts: Arthur Schnitzler, Lucretious, Carlo Emilio Gadda
Program Note:
A young woman before a mirror "Am I really so beautiful? – Is that me there who speaks?" She experiences herself though the projections of the society around her, reflects in the image of others. Her nakedness shows her exposed, defenseless, an object of desire. An obsessive view from without: she has not yet found herself, remains a stranger to who she is. In Schnitzler's novel, Fräulein Else – which appears as the basic narrative layer – is sent out into the fine world of a glitzy Italian hotel in the Dolomites. Else has a hopeless, demure sense of the direction in which this society is leading her, a society whose women are kept on the end of leads attached to pearl collars. "When I marry, I will most probably do it cheaper" – marriage is another form of prostitution. Her mother's beseeching letters pressure her: Else must find money to support her debt-ridden father, first thirty and then fifty thousand guilders. The sponsor's price is high and leads Else to a world of self-destruction, a further "victim on the altar of a world of total reification" (Furrer).
The U.S. Premiere of FAMA:
The box theatre no longer exists since its last presentation in 2006. However, Beat Furrer and Talea are collaborating to present FAMA in an un-staged concert version. They will be joined in two concerts presented at the Bohemian National Hall by New York-based vocal ensemble, Ekmeles, and actress/singer, Bo Chang.
May 16th and 17th, 2013 8:00PM
Bohemian National Hall
321 East 73rd Street
New York, New York 10021
To reserve free tickets for May 16 concert, please visit:
http://www.acfny.org/event/beat-furrer-fama/
To reserve free tickets for May 17 concert, please visit:
Bo Chang, actress
Tara O'Connor, contrabass flute
Ekmeles vocal ensemble
James Baker, conductor
Presented by the Austrian Cultural Forum and Bohemian National Hall.
Generously funded by ProHelvetia Ernst von Siemens Musikstiftung and the Harry and Alice Eiler Foundation.

With the friendly support of:
---
iNSIDE Out Chamber Music Concert
Three nights prior to the performances of FAMA, Talea will present an evening of Furrer's chamber music at the Austrian Cultural Forum. This concert serves as a glimpse inside Furrer's sound world. Audiences will have the opportunity to engage with the composer during an informal in-concert discussion, thus gaining more insight into the concepts behind his work.
May 14, 2013 7:30pm
Austrian Cultural Forum
11 East 52nd Street
New York, NY 10022
Program:
Beat Furrer: Lotófagos I (2006)
Beat Furrer: Studie for Piano (2011) *US Premiere
Beat Furrer: Scene VI, from FAMA (2004)
Beat Furrer: Lied (1993)
Tony Arnold, soprano
Tara Helen O'Connor, contrabass flute
Steven Beck, piano
Yuki Numata Resnick, violin
Greg Chudzik, double bass
Presented by the Austrian Cultural Forum.
Generously funded by ProHelvetia and Ernst von Siemens Musikstiftung.

With the friendly support of:
Beat Furrer Composition Lecture
Manhattan School of Music
132 Claremont Ave, New York
May 13, 8 PM
Reservations required: E-mail talea@taleaensemble.org
Open Dress Rehearsal
Bohemian National Hall
321 East 73rd St., New York
May 16, 4-5 PM
Reservations Required: E-mail talea@taleaensemble.org
About the Composer:
From an interview on Universal Edition's page on the composer (his publisher from the early 1980s-1995), Furrer says about his work, "For each piece I want to create the material and the interrelationship of the intervals anew. Composing would not interest me if I had the impression that I was reproducing a well-worn concept rather than taking a step in a new direction. Surely, some works are recognizably linked together in that they spin on the same idea but always, that idea appears in a completely new light". Beat Furrer's work can be seen as an exploration on modalities of expression, always curious about context and meaning and how they transform musical material. This has led to a rich sound world of extended instrumental and vocal techniques. His body of work is impressively vibrant and multi-layered, with a stunning luminosity.
Beat Furrer was born in Switzerland in 1954. He relocated to Vienna 1975 to pursue studies with Roman Haubenstock-Ramati (composition) and Otman Suitner (conducting). In 1985 he co-founded Klangforum Wien, which he directed until 1992 and is now regarded as one of Europe's leading contemporary music ensembles. He remains with the ensemble as conductor. He was awarded the Music Prize of the City of Vienna in 2003 and the Golden Lion, for the monodrama "FAMA," at the 2006 Venice Biennale. Furrer has been a professor of composition at the University for Music and Performing Arts in Graz, Austria since 1991.